Swiss-based Tresorit focuses on two key aspects with one of the best cloud storage services: security and simplicity. It sits on your computers and your mobile devices, syncing files to and from the cloud, and enabling you to share files and folders with other people when needed.
It's a lot like services such as Dropbox or SugarSync in the way that it operates. But its clean user interface and emphasis on keeping your files protected (it offers end-to-end encryption everywhere, for instance) make it worth considering whatever your requirements. 
Tresorit: Pricing & plans 
Tresorit offers a basic free plan – you get 5GB storage space, which isn't much, but it's on par with some of the best free cloud storage providers, including Microsoft OneDrive and Apple iCloud Drive. However, this account limits you to a 500MB file size, which is quite restrictive, but an expected trade-off for zero-cost. 
Tresorit has pricing both for individuals and for teams as well as a free offering called Basic with 5GB storage. For the full cloud storage, after a 14-day free trial, you'll need to pay $13.99 a month for 1TB of storage or $33.99 a month for 4TB.
On the business side, your options are $18 per user per month for 1TB each or $24 per user per month for 2TB. Both plans require a minimum of three users. 
For larger organizations with at least 50 users, Enterprise plans are customizable, with a scalable amount of storage depending on the company's needs. You'll need to contact Tresorit directly for a bespoke quote. 
Business users can also add end-to-end email encryption for emails using the Tresorit tool for the desktop version of Microsoft Outlook – on Windows only. This costs $7.50 per user per month on top of any of the three business subscriptions. It's not clear what this add-on would do that free email encryption tools for Outlook like GpG4win couldn't but we encourage you to do your own research if you want this feature. 
All tiers of membership, including the email encryption add-on, can be paid annually for a discount of approximately 20%, with a slightly smaller discount for the entry-level Personal plan. 
Naturally, this represents the best value for prospective Tresorit users, and while business pricing is reasonable, we find the personal plans to be on the pricey side. The 1TB Personal plan, for example, costs more than the 2TB available from iCloud Drive and other big names.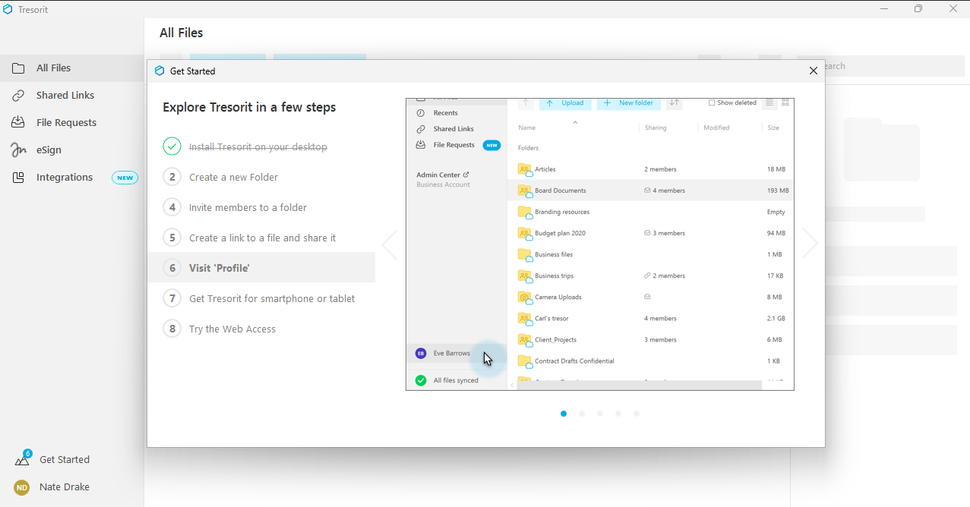 Tresorit: Interface
The interface sported by the various Tresorit apps is certainly one of the strong points of the service. The apps are clean, fresh, and modern-looking, and you won't have any problems finding your way around them. The guided tour that you get when you first open up the client apps certainly helps.
We originally tested Tresorit on macOS and found most of the functionality could be controlled through the desktop client, including file activity, sharing and integrations, however the ability to also embed Tresorit into the native file manager system – Finder – was really appreciated, helping to create a seamless experience with which users are already familiar.
For our most recent test on our Windows 11 virtual machine, the client app created a virtual mounted volume, with the drive letter 'T' appropriately enough. You can then place files in your Root Tresor or upload them via the desktop client itself. 
The mobile apps are perhaps even more intuitive to use than the desktop programs, and there's definitely a Dropbox-style vibe here. Files can be accessed quickly and simply, and shared with just a few taps. If you need yet another app to automatically upload your mobile photos and videos to the cloud, then the apps for Android and iOS are able to do this for you too. 
There is a toggle to enable and disable mobile data, helping to preserve your allowance, however there are no automated warnings based on file size unlike some other cloud storage apps. Passcode or biometric access to the app adds another level of security, and this can be a different passcode to the one you use to log in to the device itself.
It's a similar story on the web. Everything is simple and plain, but easy to find and functional. A few more options would be welcome, like the ability to stream media files directly from the web interface. However, overall we don't have too many complaints. If you want, files can be kept exclusively on the web rather than being synced to one or more of your devices, giving you better control over how you manage local storage.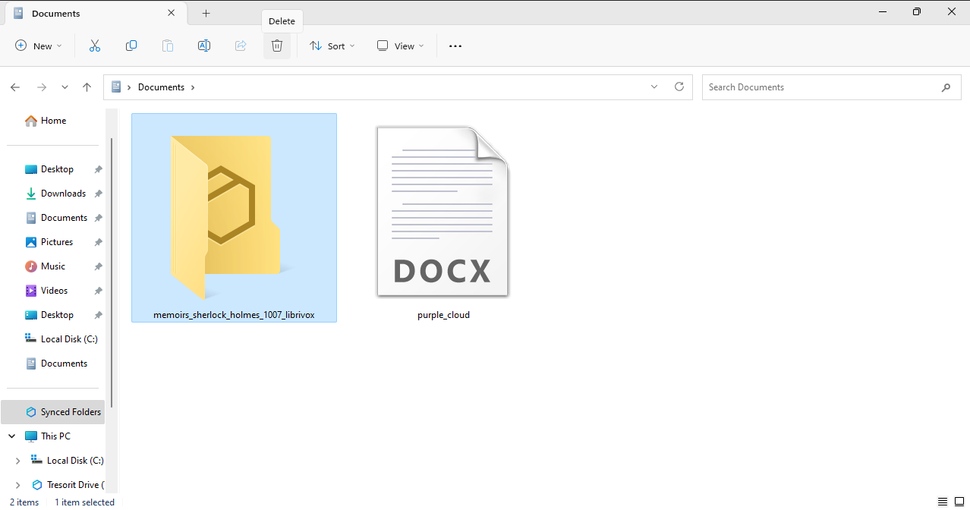 Tresorit: Features 
When it comes to core functionality, the client software essentially lets you sync any file or folder from your computer or mobile device to the cloud and back, under the limits set by the type of account you're using. 
You can also create specific 'tresors' inside the apps: collections of files and folders that you wish to organize, share and distribute as one. It gives you a bit more flexibility if you don't want to stick to the exact folder structure that already exists on your computer, but to be honest, we can't imagine using it very much. Still, this feature could be useful to businesses storing files in the cloud to keep data safe. For instance there's no need for the Accounting Team to see blueprints for the top secret project that R&D working on, so each section could have their own Tresor. 
Online collaboration tools are fairly strong, offering access to Tresorit account holders and non-account holders, as well as the ability to set up a link for other people to upload files into. The 'Basic' plan supports setting a password to access a link. Paid plans allow you to fine tune sharing settings further by specifying the time after which a link will expire (default 30 days) or how many times a link can be opened (default is 20). 
Data from networked drives and NAS drives can be included in your cloud backup, if needed, and there's also support for file versioning: that means you can roll back to older versions of files rather than the latest versions, if you have to.
This varies by account, with top-tier Enterprise plans getting unlimited versions and entry-level Personal plans making do with 10 versions. 
While there is a file syncing solution that works between multiple people and multiple devices – so everyone is always working off the latest versions – there's limited in-app collaboration here, like you get in alternatives such as Dropbox and Google Drive. True, Tresorit might not have as many bells and whistles as these rivals, but in pur experience, we found it covers the core functions very well indeed. 
Tresorit: Security
End-to-end encryption is one of the flagship features of Tresorit, with all files and metadata protected using randomly generated encryption keys that never travel in an unencrypted form. Data is protected with AES-256 encryption and new keys are generated each time a file changes. This means, for instance, if you remove someone from a group of people with access to a folder the encryption keys on their device can no longer read files in that folder. 
As an extra level of protection, Tresorit clients apply a Message Authentication Code (MAC) to the content of each file, and this code is held only by the client and with those the file is shared, but not kept by Tresorit.
Decryption is only possible with a user's unique decryption key: even Tresorit staff can't access your files. This 'blind' or 'zero knowledge' approach has the advantage that neither hackers nor law enforcement can access your files; but if you forget your key, it's gone forever.
The Tresorit Blog cites a well known saying in Information Security «Trust is good, validation is better.» This is ironic, as the client apps aren't open source. In other words, if Tresorit made the source code for their apps publicly available the coding community could verify that client-side «end to end» encryption works in the way they say.
In fairness, open sourcing an existing project is a huge undertaking. Tresorit have however, undergone an independent security audit in 2019 by Ernst and Young, which did have access to the platform's source code. They concluded that customer data was protected in the way Tresorit claimed. 
As well as zero-knowledge security, two-factor authentication is included as well, for extra account protection from the user's end.
Tresorit: Our tests 
We ran three key tests, measuring Tresorit's sync speed, file recovery and versioning.
These occurred on a Windows 11 virtual machine running the Tresorit desktop client, with the VM connected to the internet via a VPN server. Our speed tests consistently showed an average upload speed of 70 Mbps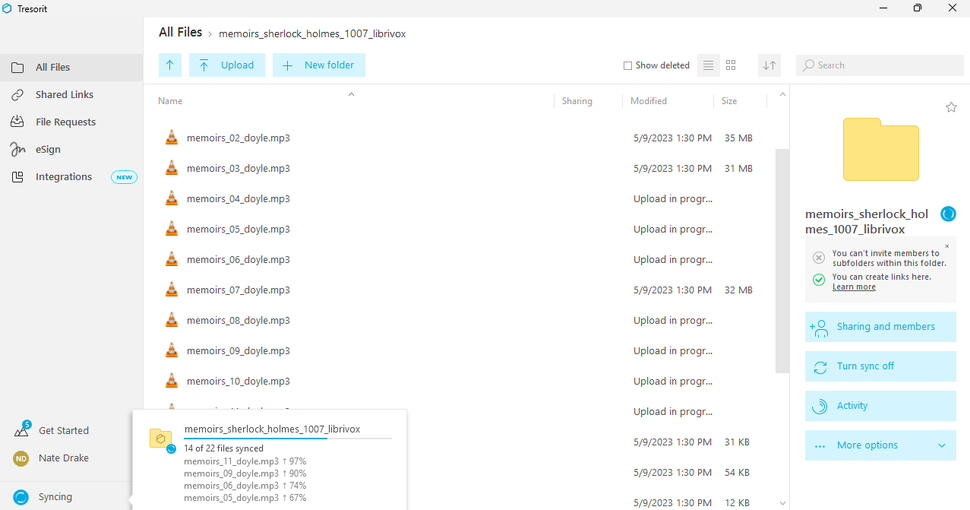 During our original tests we found that upload and download speeds using the macOS desktop client were poor compared with other cloud drives. Multiple tests with a minimum 30Mbps upload speed resulted in the upload of our 1GB test file taking around 30 minutes. We've seen as little as five minutes elsewhere. Downloading the same file, on the other hand, took a little over 30 seconds, which is the best we've seen using the same 350Mbps speed used elsewhere. 
Our most recent tests were using a connection with an average upload speed of 70Mbps. The 22 files (625MB in total) took a little over 180 seconds to upload. This is much slower than other major cloud storage providers like Dropbox. In fairness, many factors can affect the upload speed. If files are being encrypted client-side prior to upload this will also necessarily slow things done, whilst making your data much safer. 
We're pleased to be able to see the progress of individual file uploads by hovering the mouse over the 'Syncing' icon. We also were delighted with the ability to throttle bandwidth use in the client apps, in order to avoid overwhelming your web connection, which is something other services offer too.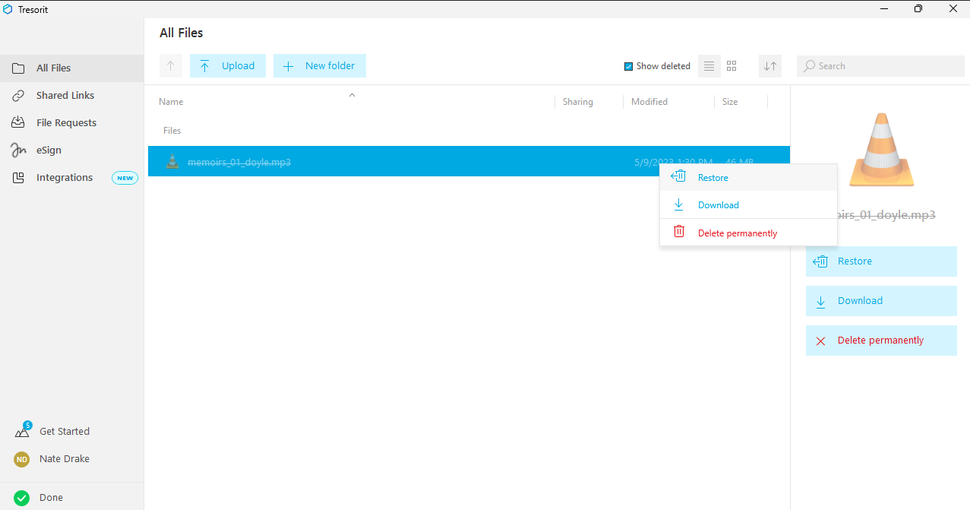 When we uploaded our test folder of files, Tresorit automatically created a corresponding folder in the cloud drive. When we checked the mounted T: drive on our device, there was also a shortcut to the folder's location on the hard drive.
We deleted the original folder, which caused Tresorit to throw up an error saying Path Lost, although the client didn't remove the corresponding folder from the cloud. We right clicked the cloud folder with our test files but the only option was to «permanently delete» the folder. Files that are permanently deleted can't be recovered.
We had more joy uploading a single one of our test files. The MP3 in question synced in seconds and we could choose to delete rather than permanently delete it. It's also very simple to check Show Deleted from within the client to restore a file. 
The bottom line is that Tresorit seems great for restoring deleted files, but folders are permanently erased.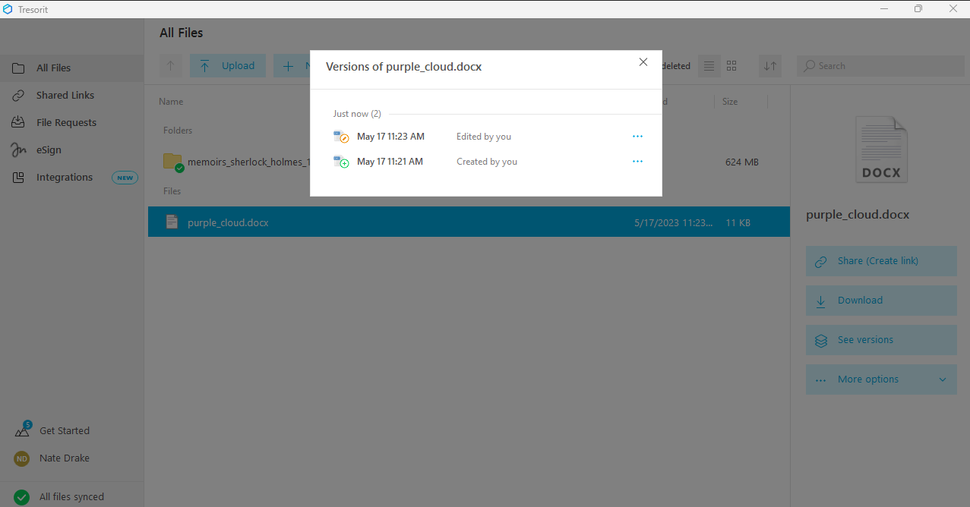 To test versioning options, we uploaded a test file, then opened it on the local machine and removed all text except the intro. The changes were automatically synced to the cloud.
However when we clicked the file and chose to Display Versions, the unmodified original document was listed. We could only download the document however, not restore the original as is possible with other cloud providers like Dropbox. 
Tresorit: Verdict 
Overall, we found Tresorit is a very secure, very fast, very reliable service, with apps that are a breeze to use. Its backup services are flexible and sophisticated, with the option to create custom groups of files and folders outside of the folder structure of your main computer. 
The advertised end-to-end encryption and security measures are top notch. On the face of it, there's nowhere safer to put your data. As impressive as the recent independent security audit is, we still think a cloud storage provider who places such an emphasis on security should open source their client-side apps. Although this can't happen overnight, Tresorit could follow the Signal model whereby the app is open source and available for anyone to examine but the developers don't accept «pull requests» from the community. In other words, Tresorit would remain in control of exactly what goes into the software rather than it being a group effort.  
Tresorit is also on the relatively expensive side for the amount of cloud storage you get, puts limits on the number of devices you can use, and doesn't come with some of the extras (like collaboration tools) that its rivals do. We came away impressed, but it's not going to be the best cloud storage solution for everyone and every business.